Brochure or FAQ sheet
Video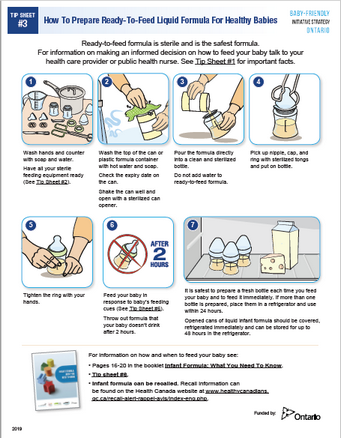 Formula Video and Formula Tip Sheets
A Formula Preparation Video entitled "Safely Preparing Formula For Your Baby" and a series of 6 Tip Sheets are designed to assist families with the safe preparation of infant formula. Videos are available in English and French.
The 6 Tip Sheets cover the following topics:
Tip Sheet #1- Informed Decision Making
Tip Sheet #2- Getting Ready To Make Formula
Tip Sheet #3- How To Prepare Ready-To-Feed Liquid Formula For Healthy Babies
Tip Sheet #4- How To Prepare Concentrated Liquid Formula for Healthy Babies
Tip Sheet #5- How To Prepare Powdered Formula For Healthy Babies
Tip Sheet #6- How To Bottle Feed Your Baby And Transport Formula
English, French, Cree, Ojibway, Arabic, Bengali, Chinese, Farsi, Gujurati, Hindi, Hungarian, Korean, Punjabi, Russian, Somali, Spanish, Tagalog, Tamil, Urdu and Vietnamese.
Size:  9 X 11 tip sheets
Language:
Arabic
Bengali
Chinese
Cree
English
Farsi
French
Gujarati
Hindi
Hungarian
Korean
Ojibway
Punjabi
Russian
Somali
Spanish
Tagalog
Tamil
Urdu
Vietnamese
Population:
General public
Professional/Service provider
Parents (pregnant)
Parents (postpartum)
Topic:
Risks of not breastfeeding
Discharge information